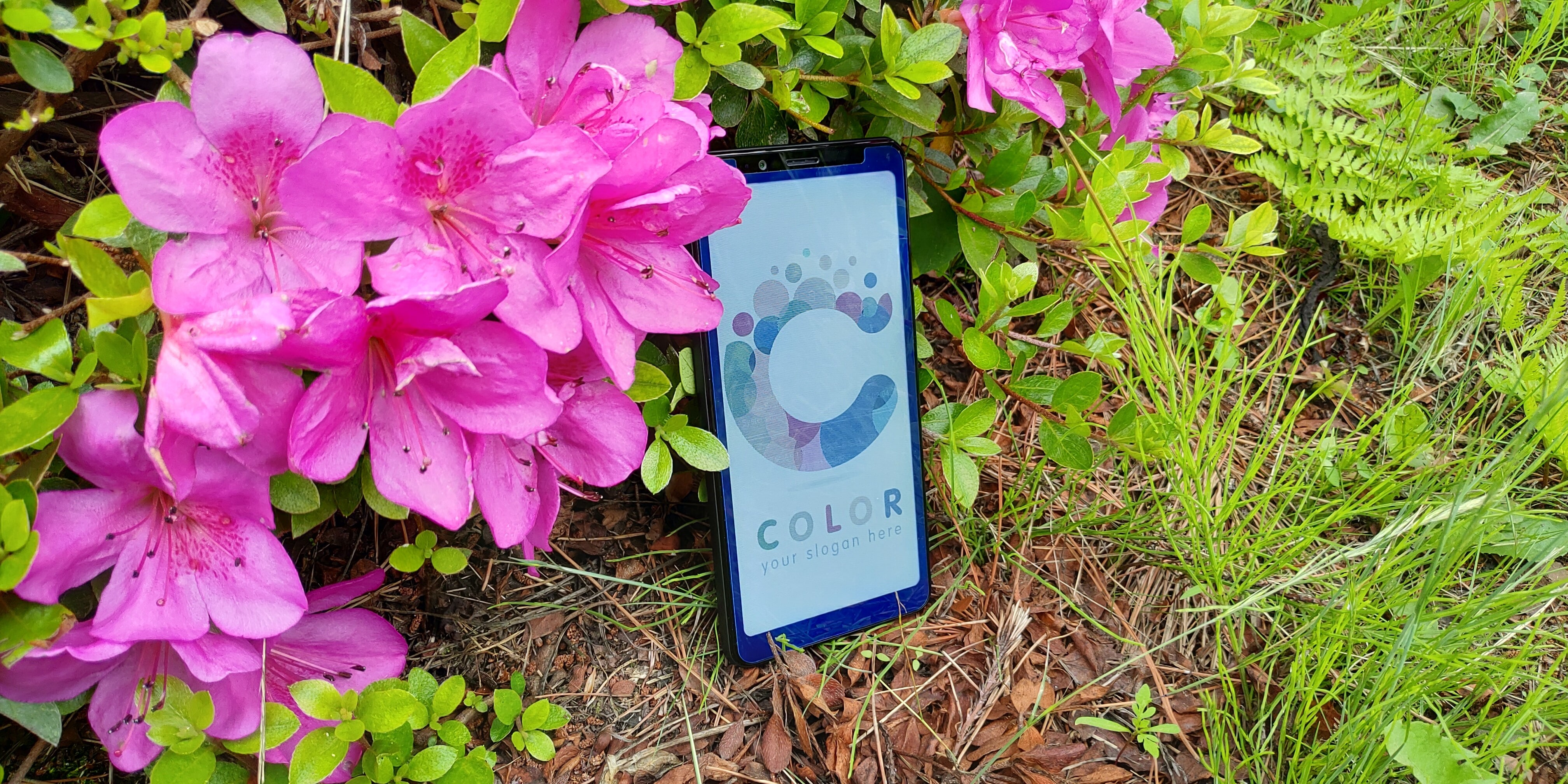 The Hisense Pro CC is the second color E INK smartphone that came out this year, the first was issued a few months ago. What makes the Pro CC different from the Hisense A5C? It has a higher version of Android, 10 to be exact. It has more RAM, a better processor, a fingerprint scanner, two microphones, a dedicated speaker on the side of the device and two new speed modes, to increase the refresh rate, so watching videos or playing games can be a thing.
Hardware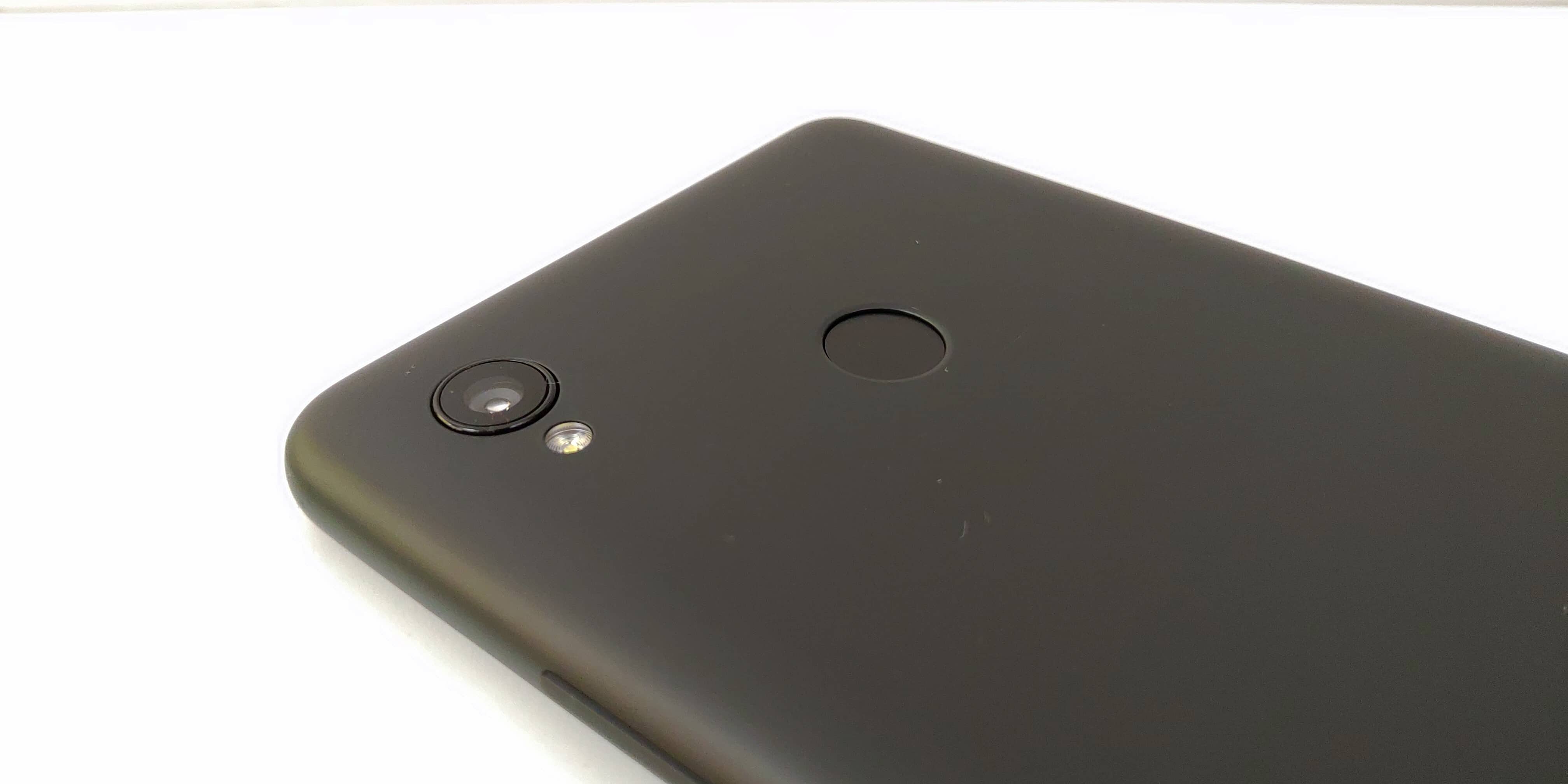 The Hisense A5 PRO CC features a single screen 5.84 inch E INK color display with a resolution of 1440 x 720 and 287 PPI. It is capable of displaying 4,096 colors. The color filter kicks in if you are viewing content, such as ebook cover art, Android apps or PDF files. The maximum PPI for the color E INK is 100 PPI.
Color E INK will not detract from the reading experience. Let's say you are reading a standard ebook that has black and white text, this will be displayed at 287 PPI. If you are using an Android news app, tat has the UI in color, a picture in color, but the text is in black and white, the color filter will be used to view the color content at 100 PPI and the text at 287 PPI. So basically the E INK Carta screen can display text in high resolution and color in lower resolutions.
You might be thinking to yourself, what is the point in spending $320 for the 64GB or $350 for the 126GB model? I could buy an iPhone SE or another device that is readily available, that can display millions of colors? E INK technically is different, it does not have a back-lit display, that shines light in your eyes. It is the closest you can get to reading paper and also works in direct sunlight.
This phone does perform well in direct sunlight, but not as well as a traditional e-reader. This is because the CC PRO has a layer of glass on the front and also ships with a normal screen protector. Hisense does not sell Matte screen protectors, so you will have to find one that fits a 5.84 inch display. I found that the glass screen, in conjunction with the stock screen protector results in too much glare from the sun.
Underneath the hood is a Unisoc T610 processor (2 x 1.8 GHz ARM Cortex A75 + 6 x 1.8 GHZ ARM Cortex-A55) and 4GB RAM. There are two different storage configerations available – 64GB and 128 GB. The SIM card tray houses a MicroSD slot, and is capable of an addition 256GB of additional storage. This should basically be enough for almost any user that has a massive ebook and PDF collection.
The Hisense Pro CC is powered by giant 4,000 mAh battery, which should be enough for a couple of weeks of mixed usage. If you are the type of person that just uses their phone to read, light SMS and the odd ap, you should be OK, but constant app usage will result in you having to charge it every few days. The rear facing camera is 13MP and front-facing camera is 5MP. It is running Android 10, which will handle any app you throw at it.
The Hisense A5C only came with 2 refresh modes, a regular mode that gives you the ideal E INK experience and A2, which degrades the image quality to provide increased performance. The A5 Pro CC has 4 different refresh modes, that are similar to the Onyx. The normal one is clear mode, which gives you nice looking app icons, text, and PDF image clarity, it also has the same A2 mode. The two extra modes are the speedX and X-mode which makes playing videos, or light gaming a very real thing.
Let's take a look at the retail packaging, since this is going to be your first real experience with the A5 CC. The front of the box has a colored Hisense Logo, that denotes that the device is color. The sides of the box also has their logo. The back of the box is pure white, except for the very bottom which has som regulatory information. When you open up the box, the phone is laying down on its back and it is encapsulated by a static proof bag. Right underneath it is the wall charger, SIM removal tool and USB-C cable. There is a one page plastic card that is a quick start guide, but it is entirely in Chinese. There is also a multi-page warranty card, used if you need to do an RMA.
The phone is shipped in a static proof plastic bag and when you take it out, the front of the phone is flush with the bezel and the sides of the bezel are not that big, at least by e-reader standards. There are no physical buttons on the front of the device, but there are volume, power button and a E INK multipurpose button that can be mapped to do different things. You can establish a single press to do one thing, and a double tap for another. Common things include one tap for a full page refresh and two to launch the ebook reading app.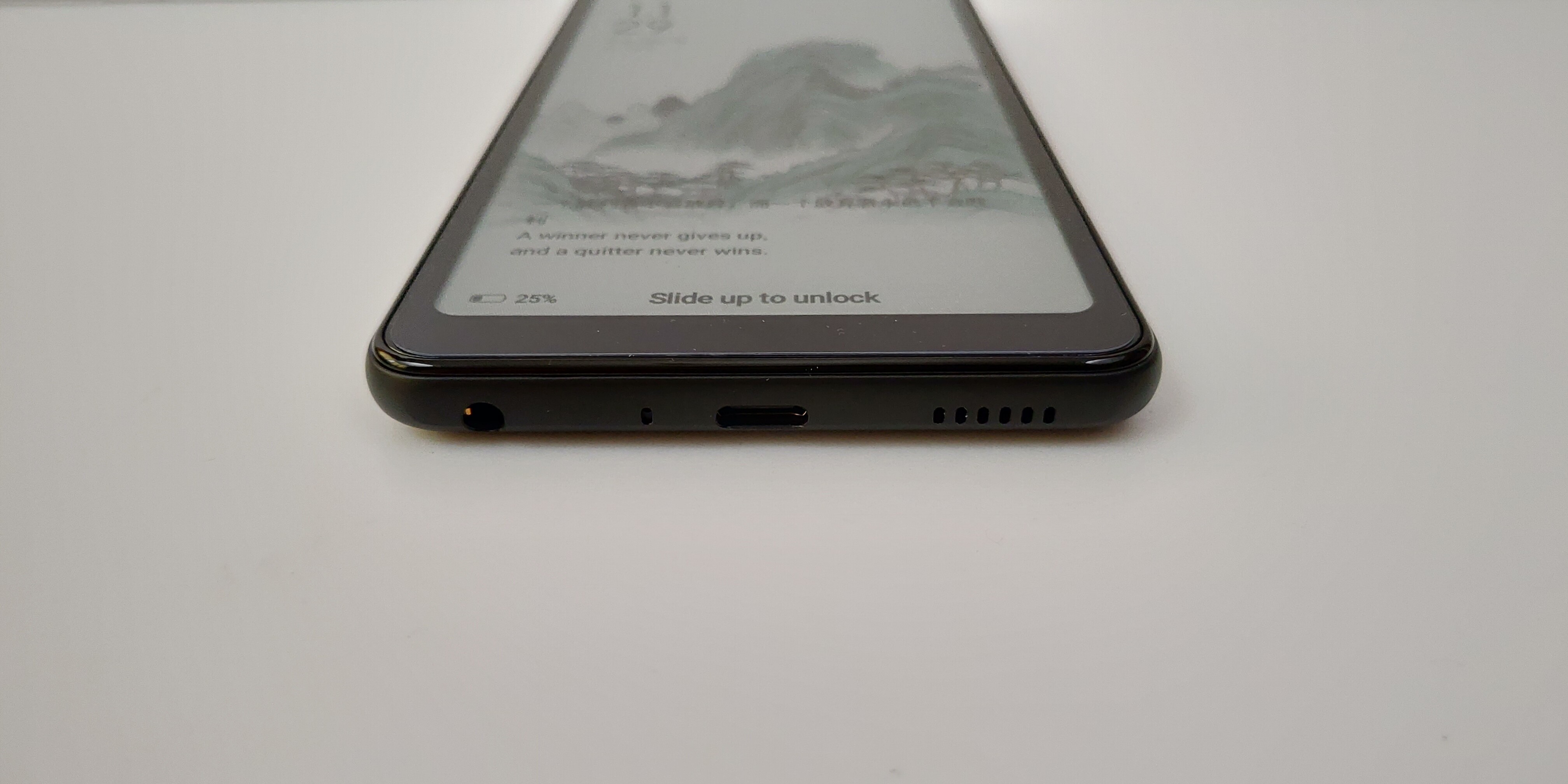 There is a 5PM camera on the front and a grill-speaker, this is where voice calls would emit from. On the back of the phone is a 13MP camera and micro LED flash. There is a fingerprint button on the back, below the camera. On the very bottom of the device is a USB-C port, microphone and the primary speaker, which is designed to be about the size of a standard iPhone speaker. This is where speaker calls would be heard, or music, podcasts, audiobooks or movies . One of the most surprising things about this phone was the placement of two different microphone inputs. There is one on the bottom next to the USB port and another at the very top.
What carriers does this phone work with? If you live in Canada it works on Bell, Rogers and Telus. In the United States it is compatible with AT&T, T-Mobile and Verizon, but not Sprint.
The build quality on this smartphone is higher than the A5C, a better speaker and two microphones are compelling. It also has more RAM and a faster processor and a fingerprint reader. This is worth spending the extra money and you can buy it today from Good e-Reader Store for $320 – $350, depending on if you want 64GB of internal storage or 128GB.
Software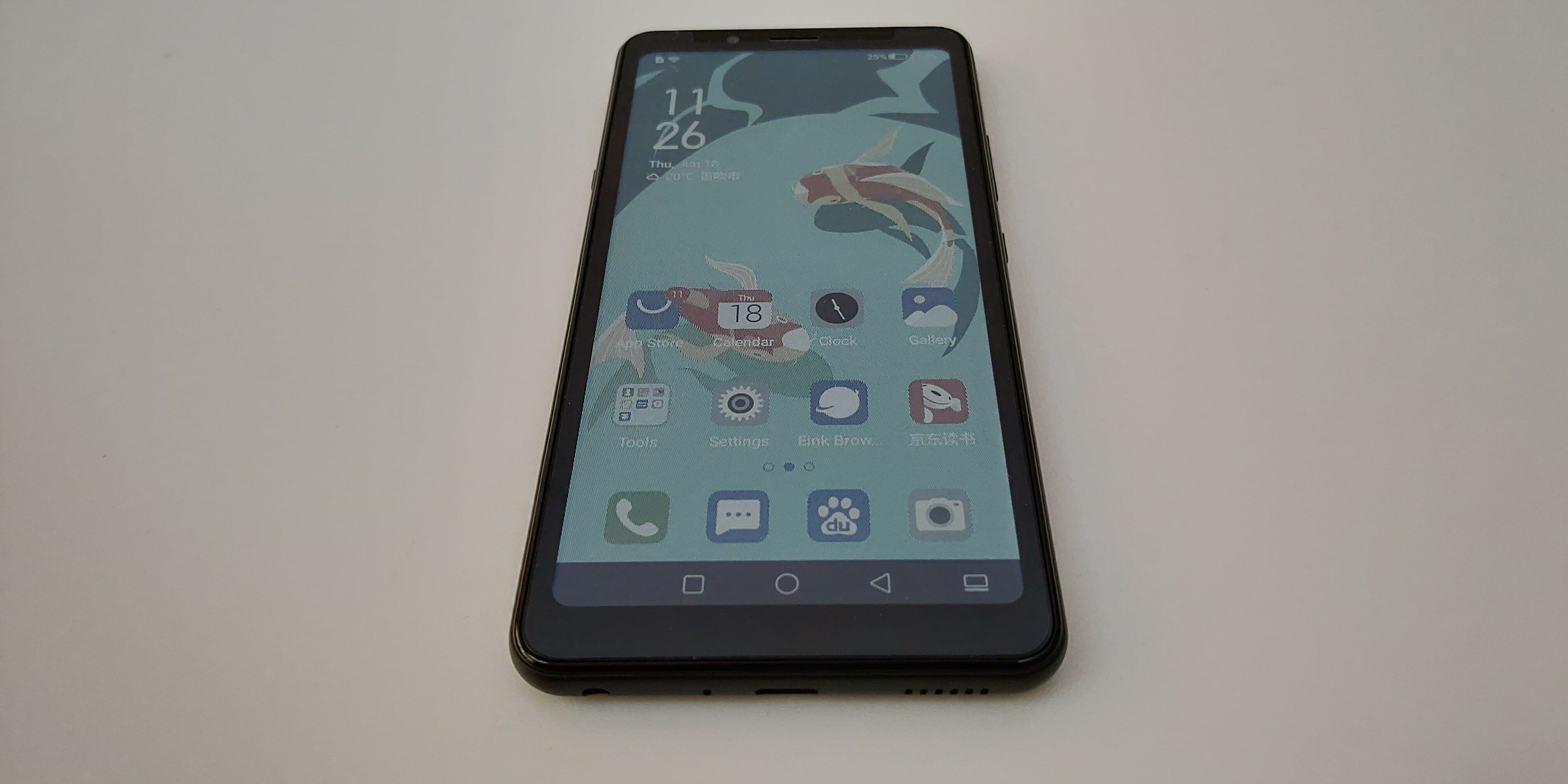 The Hisense A5 Pro CC is running Google Android 10, which is the only E INK device at this point running such as modern version of Android. This would put many peoples mind at ease, since it has so many security vulnerabilities that are patched and many new features that are available. I won't regale you with all of the new things that Android 10 brings to the table, for that you can view an excellent write up from Android Authority.
How do you download and install apps on this device? There is a small app store that is preinstalled, but it only populated with Chinese apps, Google Play is currently not available. I have heard from a few sources that Hisense is working on Google Play compatibility, but due to it being a Chinese company, there are various hurdles to cross and Hisense is too big of a company to use an unauthorized version.
In the meantime, if you want to sideload in your own apps or a 3rd party app market. Make sure you go to the settings menu and enable app installs from unknown sources. We always recommending our own Good e-Reader App Store, which has around 150k apps, that are always updated and puts a priority on reading.
The home screen is quintessential Android, your apps are housed here and also any folders you establish. There is a default widget that shows the time and date, but you can install anything else you want via apps, such as a weather widget. In the top right corner is the WIFI symbol and time, the top left is where your notifications are. If you drag your finger down from the top center of the screen, downwards, there are a bunch of customization settings. You can turn auto rotate on/off, flashlight, WIFI network, data connection, ringer on/off, establish a hotspot, engage in power saver mode, take a screenshot, location and engage Bluetooth for wireless accessories, such headphones. This screen is also where you can adjust the front-lit display. This phone has white LED lights on the bottom of the screen and project light upwards, evenly illuminating the screen and not shining in your eyes.
At the bottom of the home screen is an E INK customization button. You can adjust the brightness of the front-lit display and set when you want it to come on. The auto brightness feature uses your phones clock to come on at night, for example. You can also totally disable the light, if you find the lighting system intrusive.
There are many different ways you can enhance your E INK experience on this phone. There are four different different modes. The first is Clear Mode that is basically the stock setting, it will optimize the maximum amount of resolution possible. This makes reading and app usage good, but swiping and gesturing around the phone will be have delays, due to the limitations of E INK. Balanced mode is a blend between A2 mode and Clear Mode. Performance is increased, so you can easily navigate across menus and launch apps, and everything is quick, but some ghosting problems occur, so you will have to engage in a full page refresh once in awhile. I suggest mapping the refresh button to the E INK button on the side of the phone, for easy accessibility. Smooth made is the 3rd option, which is really good for website navigation, instant messaging apps, such as Line, Wechat, Whatsapp, or other things like Facebook, Twitter. The last mode is Speed Mode, which is my favorite. It honestly feels like your using a normal smartphone, there are no delays when doing basically anything, which is good for watching videos. Navigation is so quick, it is awesome.
There is a settings feature that allows you to customize apps, on an app per app basis on what mode you want to give it. For example, you might want to have YouTube or the internet browser on Speed Mode, so navigation and watching videos can be a thing. The e-reading app might want to be in clear mode, whenever it starts, so you can read at high resolution.
There are various battery saving modes, such as the standard power saving and Super power saving mode. You can get around two weeks of usage in super power saving mode, as it shuts down lots of background processes.
E-Reading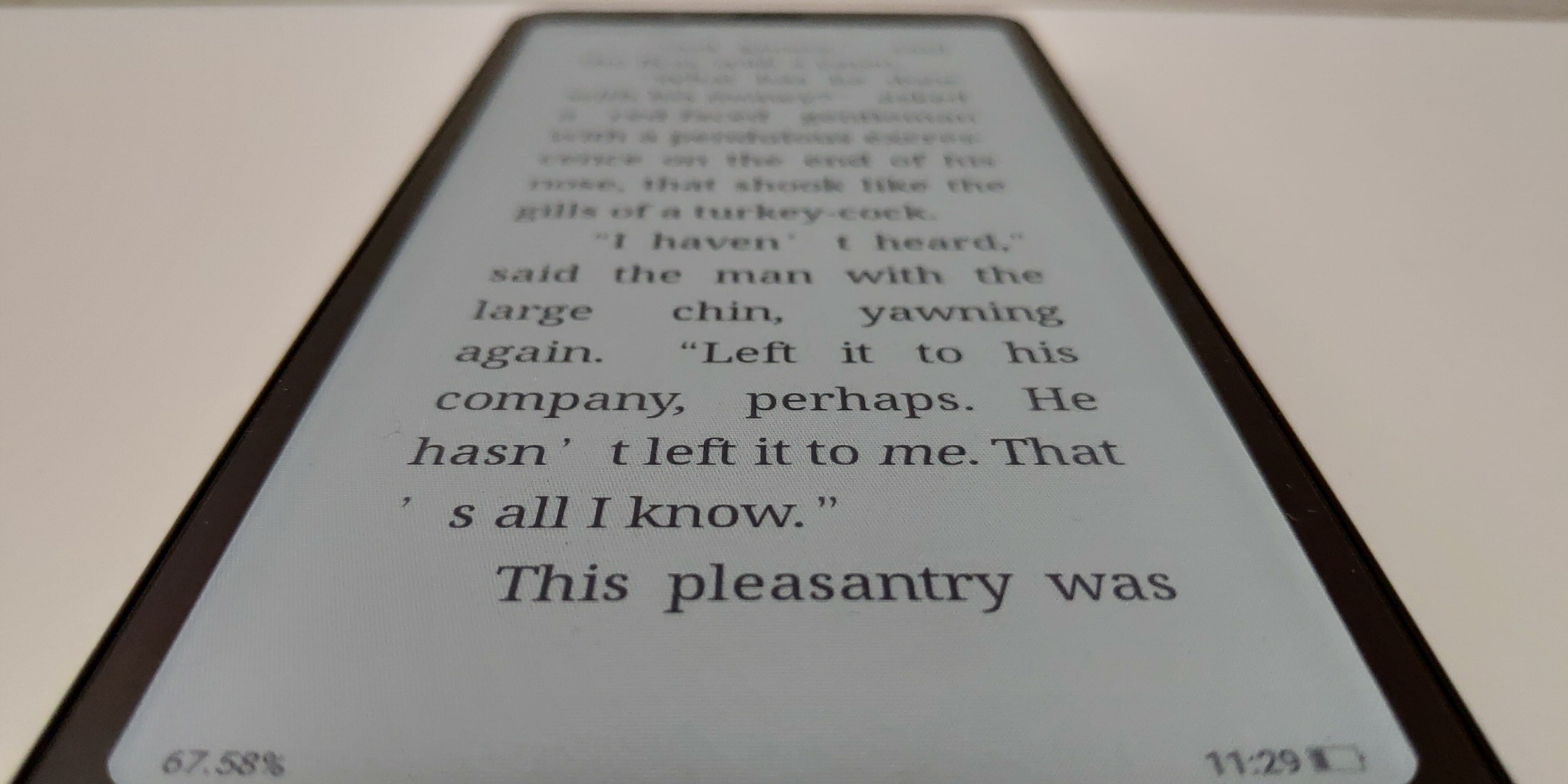 One of the benefits of reading on a portable smartphone, is the convenience factor. Unlike, an e-reader, this can sit in your pocket and be instantly accessible. I mean, people these days live on the smartphones and studies of shown that you should not use it a few hours before bed, because it suppresses melatonin, from the blue light. Since E INK does not have this problem, can you easily read on it before bed, with no adverse effects.
The stock e-reading app that is pre-loaded on the Hisense A5 Pro CC is great. But since it was designed with China in mind, there are lots of characters spread around. If you can tolerate this, you will see the odd thing when long pressing a word, making a highlight or accessing the dictionary. If you are simply just turning the pages of an ebook via swipes and gestures, you will be fine. This app is primarily used for reading sideloaded books with no DRM.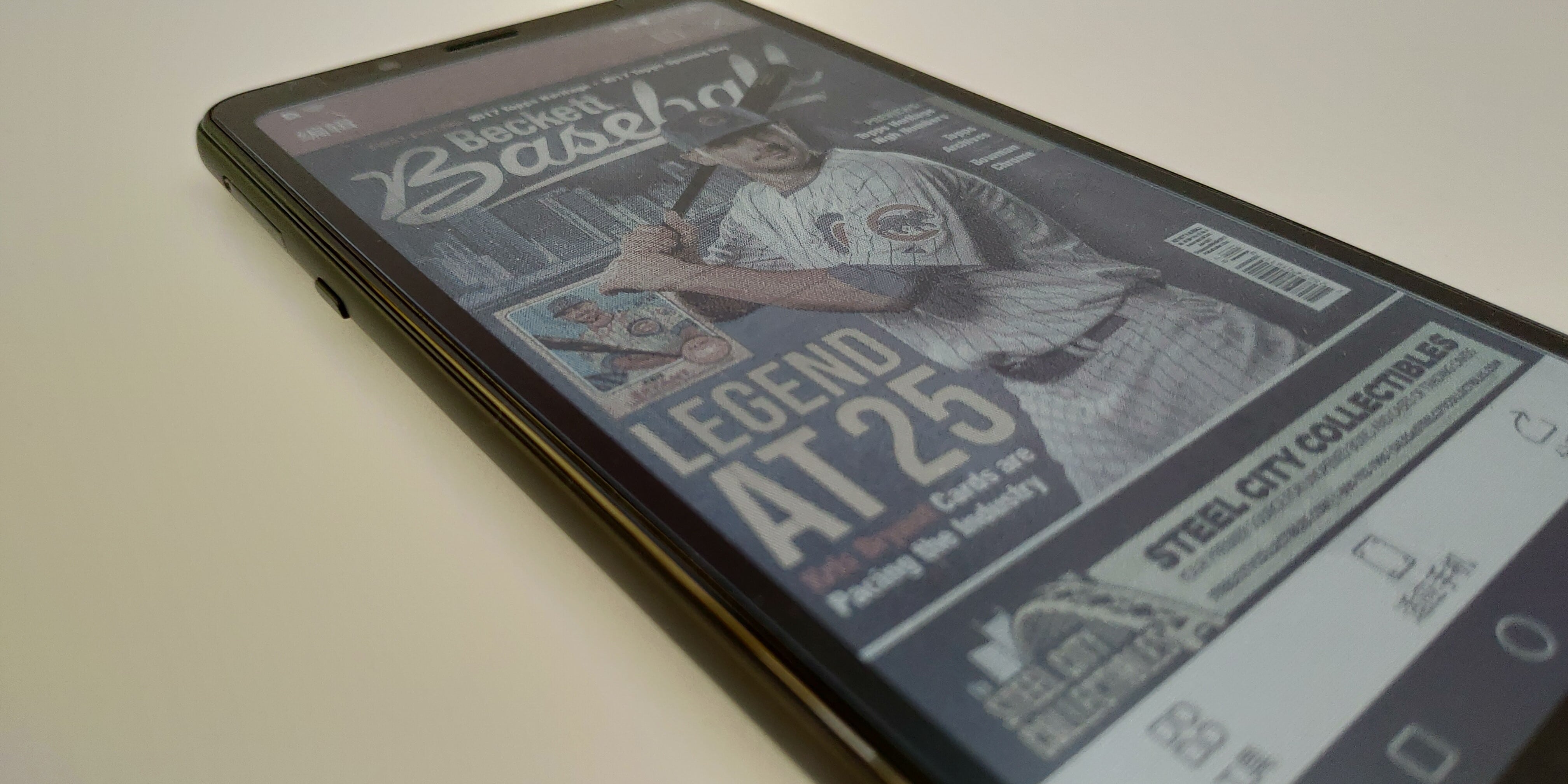 I would suggest if you already own an e-reader, download the app from the company you already do business with. This could be Amazon Kindle, Barnes and Noble Nook, Kobo, or even Scribd, Libby, Overdrive, RB Digital or thousands of other ones. This phone is ideal for colored Webtoons, Webcomics, manga, digital comics, magazines or newspapers.
One of the great things about the reading experience is being able to display things in full color. When using this phone I had Google News, Feedly, Reuters and a few other apps I use a couple of times a day. It is nice to have the front-light on and reading the news, it felt like I was reading on my iPhone 11 MAX
Wrap Up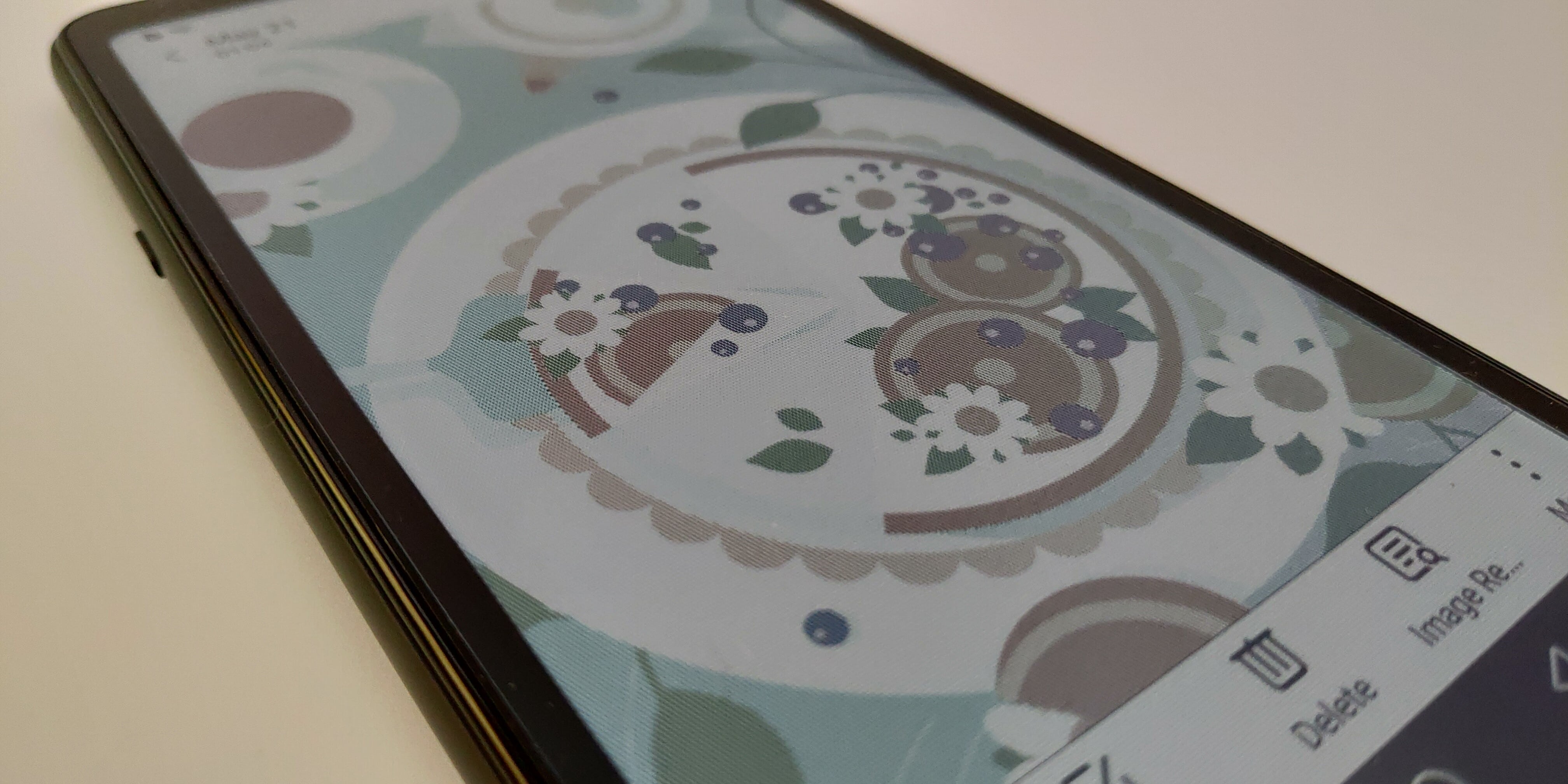 A full color smartphone from a globally recognized company is surprising. I honestly thought we would not phones like this in 2020, maybe 2021. What I dig about the Hisense A5 Pro CC, is that is fundamentally refined. The hardware is on point, the software polished and apps perform like a dream.
Make no mistake, Hisense designed this phone for the Chinese market. So the Hisense App store just has Chinese apps, all of the pre-loaded apps have Chinese characters in them and are not suited for an English speaking audience. If you install something like ES File Explorer you can clean up most of the bloatware and have your own apps installed. It is just really disheartening that there is no Google Play available, so casual users will say "where the hall I do get apps?" People who know there way around e-readers in general and can sideload stuff, will be able to enjoy this phone more.
This phone is basically showing what color E INK is capable of in a small pocket friendly form. You should totally buy it if you are an early adopter or want something you can use as a mini e-reader and can connect up via WIFI to download stuff. I mean, it is a phone, but you don't have to use it as a phone.
[embedded content]
[embedded content]
[embedded content]
[embedded content]
Michael Kozlowski is the Editor in Chief of Good e-Reader. He has been writing about audiobooks and e-readers for the past ten years. His articles have been picked up by major and local news sources and websites such as the CBC, CNET, Engadget, Huffington Post and the New York Times.